Periodontal Treatment – Edison, NJ
Detailed Therapies to Restore Your Gums
The teeth get a lot of attention in dentistry, but the gum tissue deserves just as much attention for a number of reasons. For one, gum tissue is responsible for keeping your teeth in place. Without a healthy home, they can eventually fall out! Thankfully, those with varying levels of gum disease can benefit from therapy at Signature Smiles at Edison. Our passionate team cares very deeply about helping patients stop the progression of gum disease as soon as possible, so don't wait to call Dr. Shah today for detailed periodontal treatment in Edison, NJ!
Why Choose Signature Smiles at Edison for Periodontal Treatment?
In-House Periodontist Available On-Site
Gentle, Caring and Accommodating Team Members
Multiple Sedation Options and Comfort Menu Available
Scaling & Root Planing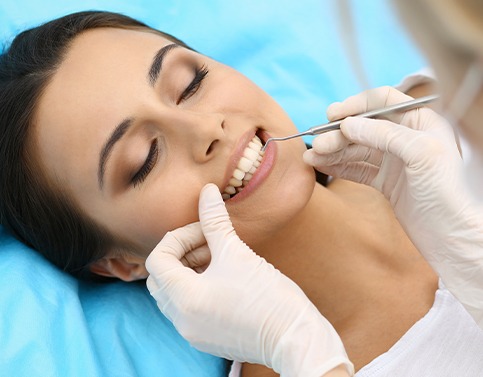 When gum disease appears, it's because bacteria and plaque have reached underneath the gum tissue. This plaque cannot be removed via traditional means like improved at-home oral hygiene or professional cleanings. Instead, scaling and root planing are performed. Scaling involves removing hardened plaque and tartar from above and beneath the gum line, while root planing includes smoothing out the tooth roots so they can better reattach to the gums. We will likely need to perform multiple gum therapy treatments over the course of multiple visits in order to fully stop the progression of your advanced gum disease.