Porcelain Veneers – Edison, NJ
Completely Transform Your Smile in Just Two Appointments
If you've ever wondered why celebrities always seem to have a perfect set of pearly whites, chances are you're witnessing porcelain veneers at their finest. When it comes to improving the appearance of your smile, few cosmetic dentistry options are quite as versatile and comprehensive as porcelain veneers in Edison. These ultra-thin ceramic shells are bonded to the fronts of your teeth, acting as little "masks" to conceal virtually all aesthetic imperfections, including chipped, cracked, stained, or misshapen teeth. Want to find out if porcelain veneers are the right way to revamp your smile? Then contact Signature Smiles at Edison today to schedule your veneers consultation!
Why Choose Signature Smiles at Edison for Porcelain Veneers?
Correct Multiple Smile Flaws at Once
Experienced and Caring Dentist
Virtual Smile Design Technology Available
Benefits of Porcelain Veneers
The material that is used to make veneers is similar to that of our dental crowns, but instead of covering the whole tooth, a veneer only goes over the front-facing side. As a result, this treatment offers many distinct advantages, such as:
Dental porcelain is durable enough to last for up to 20 years.
The material can be personalized to look exactly like your natural tooth enamel.
Veneers are more resistant to staining than your natural teeth, allowing you to enjoy a bright smile for much longer.
It usually only takes two appointments to design and place porcelain veneers.
The Porcelain Veneers Process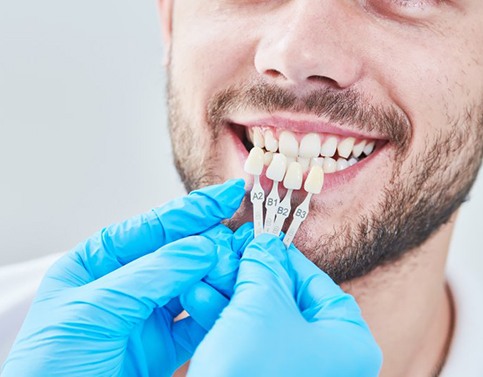 The first step in getting porcelain veneers is to have a consultation with Dr. Hiren Shah. He can make sure your teeth and gums are healthy and that veneers are the best way for you to meet your smile goals.
Once Dr. Shah has determined that you're a good candidate for porcelain veneers, he can begin preparing your teeth to receive them. A tiny layer of enamel will be shaved off of these teeth. Next, our team will capture impressions of your mouth and place temporary veneers to let you get used to the way they feel.
When the dental lab has finished crafting your custom-made veneers, which usually takes two or three weeks, you'll return to our office. We'll switch your temporaries for your permanent veneers, instantly giving you a bright and beautiful smile.
Caring for Your Porcelain Veneers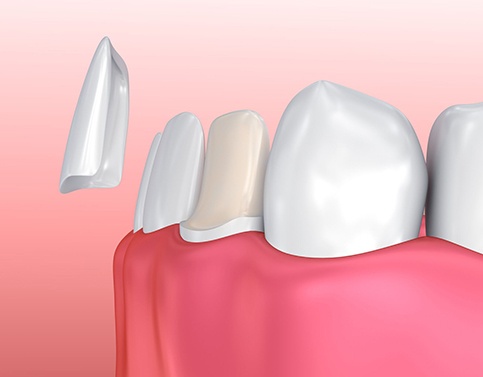 Generally speaking, the lifespan of your porcelain veneers depends on how well you take care of them. Fortunately, maintaining your veneers isn't much different from taking care of your natural teeth. You'll need to brush and floss twice a day. Additionally, you should see your cosmetic dentist in Edison at least twice a year for a routine checkup and cleaning. These little habits can keep your veneers and the rest of your teeth looking their best for years to come.