Invisalign® Clear Braces – Edison, NJ
The Metal-Free Way to Straighten Crooked Teeth
You never got braces when you were a teenager. Now that you're an adult, you feel like you missed the boat on being able to straighten your smile. You feel like you'll simply have to deal with having misaligned teeth. After all, you don't want to look like a nerdy high school student by wearing metal braces. The good news is, you don't have to! With Invisalign in Edison, you can achieve a perfectly straight set of pearly whites without having to wear a mouthful of metal. Contact Signature Smiles at Edison to learn more about this revolutionary treatment!
Why Choose Signature Smiles at Edison for Invisalign?
Experienced and Accommodating Team Members
Dentist with Orthodontic Training
Affordable Financing Plans Offered
How Invisalign Works
The Invisalign process begins with a consultation with Dr. Hiren Shah. Once he determines that you're a good candidate for this treatment, he takes digital impressions of your mouth, which are used to create your personalized clear aligners. You'll wear these comfortable plastic trays over your teeth for at least 20-22 hours a day. Essentially, you should only remove them to eat, drink, or clean your teeth. You'll wear each set for a couple of weeks before moving onto the next set. Each pair is designed to shift a tiny portion of your smile into place until the entire thing is perfectly aligned.
Throughout the course of your treatment, which usually takes between 8 and 18 months, you'll have to visit us every few weeks. However, these appointments are typically short. We'll briefly evaluate your progress and provide you with your next several pairs of aligners.
Benefits of Invisalign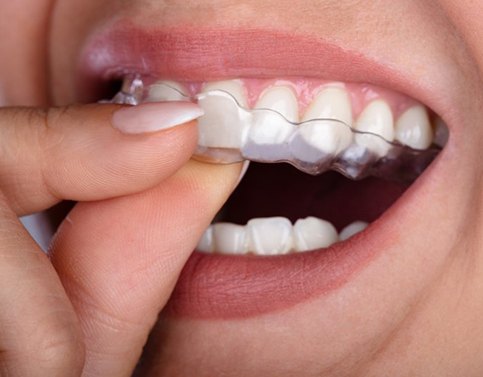 As the name suggests, Invisalign treatment is practically invisible, so you don't have to sacrifice your professional image in order to straighten your smile. Some other advantages of Invisalign include:
No dietary restrictions since you can just remove the aligners at mealtime
Faster average treatment time than traditional braces
No brackets or wires to irritate your gums, tongue, lips, or cheeks
Less time spent in the dental chair, as your aligners don't need to be adjusted like braces do
The ability to correct a variety of orthodontic issues, such as overbite, underbite, crossbite, and gapped teeth
Indications for Invisalign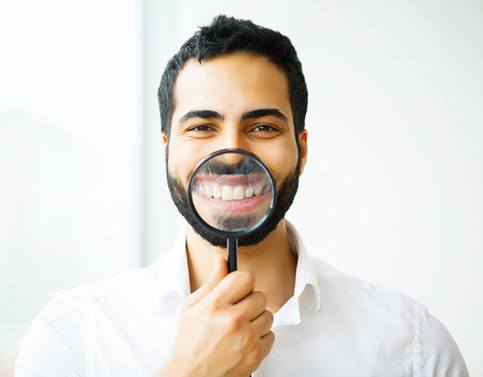 Despite its many benefits, it's worth mentioning that Invisalign requires more responsibility than traditional braces. You have to remember to keep track of your aligners and wear them often. For this reason, Invisalign is typically only recommended for adults and older teenagers.
You should also have generally good oral health before undergoing treatment. If we notice that you have cavities or gum disease, we'll have to treat those issues first.
The Cost of Invisalign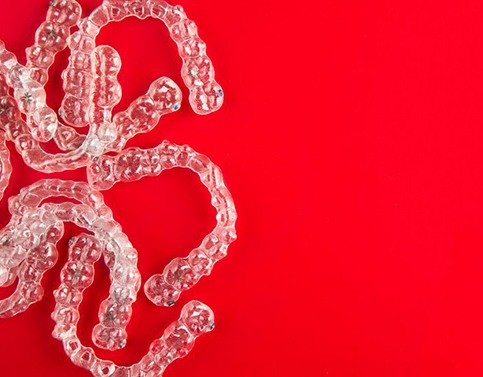 Because every patient has different needs, there is no "fixed" cost of Invisalign. During your consultation, your dentist in Edison can provide you with a cost estimate based on several factors, some of which are:
How severely misaligned your teeth are
Preliminary procedures, such as fillings or gum disease therapy, that must be completed beforehand
The number of aligners you'll need throughout the course of your treatment
Your age
Invisalign FAQs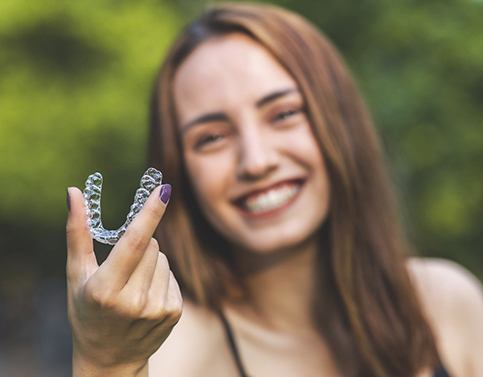 Now you know more about how Invisalign in Edison works, the benefits this treatment comes with, and the cost. However, it's completely normal to still have some questions on your mind before committing to treatment. To make finding the answers as easy as possible, we have responded to a few of the most frequently asked questions below. If you can't find what you are looking for or would prefer to speak with our team directly, don't hesitate to contact our office!
Is Invisalign Treatment Painful?
To be completely transparent, every orthodontic treatment comes with some soreness and discomfort. After all, that means your braces are working to shift your teeth into a more aesthetically pleasing position! With that being said, Invisalign is considered to be one of the most comfortable options, especially compared to traditional braces. Not only are there no metal brackets and wires, but the clear aligners are custom-made for you, making them much less likely to cause discomfort.
What If I Lose One of My Invisalign Aligners?
Having clear aligners is a major plus, until you try looking for them once you've noticed they've gone missing. Priority number one is to remain calm and retrace your steps. If you've turned over your place and still can't locate them, then contact our office right away. From there, our dentist in Edison, Dr. Shah, can determine the next best steps. If you just started a phase, he may recommend using your previous aligners until a replacement can be made. On the other hand, you may be able to move to the next set if you were almost done with those trays.
How Long Does Invisalign Treatment Take on Average?
One of the benefits of Invisalign is that their aligners deliver results in an average of 12 months (while traditional alternatives take 18+ months). However, it is important to remember that your timeline could be significantly shorter or longer depending on your unique dental needs. For example, if you want to address minor misalignment, you can see results in as little as six months. On the other hand, if you want to correct a major overbite, then you can expect to wear your aligners for over a year. The best way to find out your exact timeline is to schedule an appointment!
My Invisalign Aligners Are Turning Yellow and Staining. What Can I Do About This?
If your aligners have begun to take on a yellow tinge, making your teeth look discolored and unhealthy, there are a few things you can do:
Brush after every meal and before you put your aligners back in your mouth
Clean your aligners daily with Invisalign-friendly cleaning products
Always remove your aligners when you eat or drink (with the exception of water)
Avoid poor dental habits, like smoking or drinking lots of coffee
Will Invisalign Affect How I Speak?
To properly enunciate words, your tongue makes a series of distinct motions against the back of your teeth. Therefore, with your aligners on, there may be a bit of a learning curve. However, many patients don't experience any difficulty, and those that do can typically expect their lisp to go away within a few days.