Implant Dentures – Edison, NJ
Optimal Stability for Rebuilding a Complete Smile
Traditional dentures are one of the most popular solutions for restoring a person's bite and smile. While these prosthetics often provide reliable and comfortable results, they can sometimes come with certain issues. Instead of worrying about your replacement teeth shifting out of place when eating or talking, you can go for a more stable option with implant dentures in Edison. This treatment offers a completely rebuilt smile while also preserving your jawbone and facial structure in the long run! Keep reading to learn more about this solution or call us if you wish to schedule a consultation.
Why Choose Signature Smiles at Edison for Implant Dentures?
Complete Procedure Performed In One Location
Alternative Financing Options Available
Advanced Dental Technology for Accurate Results
What Are Implant Dentures?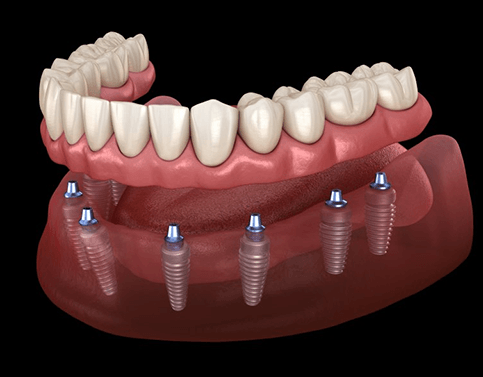 While similar to traditional ones, implant dentures consist of artificial teeth that are directly anchored to your jawbone via dental implants. This means you won't have to rely on your gum line but can enjoy the benefits of a more natural-feeling method for rebuilding your teeth. The titanium posts will also fuse with your bone tissue, resulting in an incredibly stable foundation for your dentures. Depending on your specific situation, our team may recommend one of the following options:
Fixed/Permanent Implant Dentures
This implant denture is designed to remain in your mouth indefinitely—or until your dentist needs to remove and replace them. Since they'll serve as your new permanent teeth, you won't need to take them out for cleaning or soak them overnight.
Removable Implant Dentures
These are also called "snap-on dentures" as they can be removed whenever you choose. This option is often reserved for patients who can retrofit their existing traditional dentures to fit atop dental implants. Though you'll need to take them out for cleaning, they often won't need as much jawbone density for them to work.
The Implant Denture Process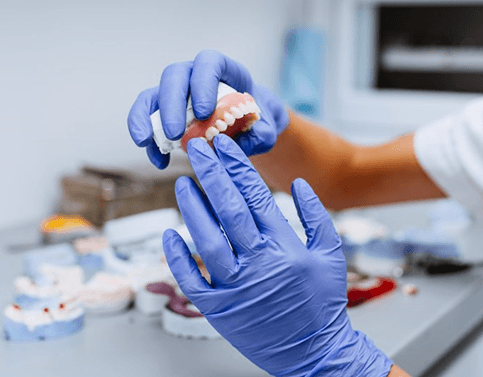 During your initial consultation, we'll evaluate your oral health, discuss your options, and determine which is best for you. Once we've decided on the type you'll get, we'll schedule you for dental implant surgery at a later date. After you've had your metal posts placed, you'll be sent home to heal and have them undergo osseointegration for several months. When you've fully recovered, you'll come back so we can design and construct your personalized dentures. Once they're completed, we'll make minor adjustments if necessary and confirm that the results are satisfactory before sending you on your way.
Am I a Candidate for Implant Dentures?
While most people who are missing some or all of their teeth may be eligible for implant dentures, this treatment is often best for patients who:
Are frustrated with traditional dentures and want a more stable and long-lasting prosthetic
Have sufficient jawbone density to support dental implants
Have good oral and overall health for proper recovery
Don't use tobacco or drink alcohol excessively
Even if you aren't currently eligible, we can help get your mouth ready with preliminary procedures like bone grafting or gum disease therapy.
Benefits of Combining Dentures & Dental Implants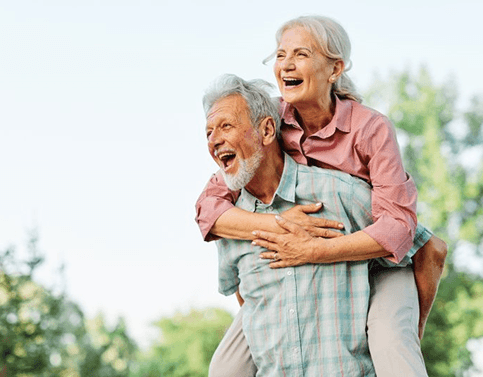 Some of the advantages of combining dentures with dental implants include:
Optimal stability for a full smile
Completely natural-looking and functioning teeth
Easier maintenance
Preserve jawbone and youthful facial shape
Can last several decades to a lifetime with proper care