Dental Implants – Edison, NJ
The Pinnacle in Tooth Replacement
When you need the most comprehensive tooth replacement possible or you don't want to use a denture to replace several teeth at a time, you'll love the benefits that come with having a series of dental implants. Whether you need to replace single teeth or all the teeth in your smile, Dr. Shah can get it done with dental implants entirely in-office! To schedule an appointment and start learning if dental implants in Edison, NJ are right for you, call Signature Smiles today!
Why Choose Signature Smiles at Edison for Dental Implants?
In-Office Placement and Restoration Performed
All-on-4 and All-on-6 Treatment Available
Modern Dental Technology Utilized for Planning
What is a Dental Implant?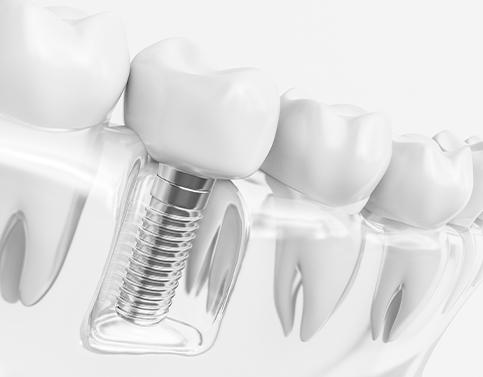 Dental implants are the only tooth replacement option designed to replace both the root of your tooth as well as the crown. Each implant comes with a titanium post that integrates with your bone and soft tissue. The implant is placed directly into the jaw, then given time to heal before a permanent restoration is placed on top. If you have good oral health, healthy gums, don't use tobacco and have sufficient bone volume, you're more than likely eligible for dental implant treatment!
Benefits of Dental Implants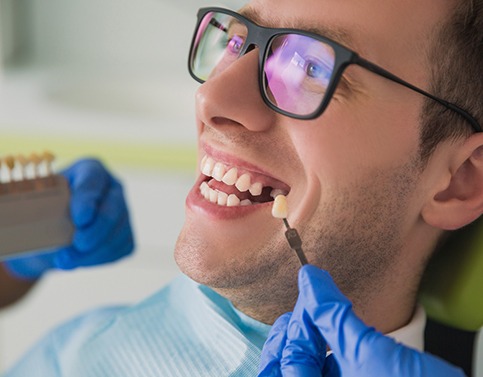 Since dental implants replace the root, the titanium post continually stimulates bone tissue and keeps it preserved. This keeps the biting force of the jaw strong, making it easy to chew and enjoy the foods you love. Furthermore, dental implants are known for promoting blood flow to the face and keeping skin elastic and taught. This is in stark contrast to the skin sagging and the cheeks hollowing out, a common side effect of tooth loss.
Along with the restorative benefits of dental implants comes the longevity. When practicing at-home oral care and maintaining dental visits, you can expect your dental implants to last 30 years and longer! This benefit combined with their enhanced esthetics makes them a winner for long-term use and appearances. With the titanium post acting as the main anchor for your replacement tooth, you don't need to modify existing teeth just to have dental implants placed!
Who Dental Implants Can Help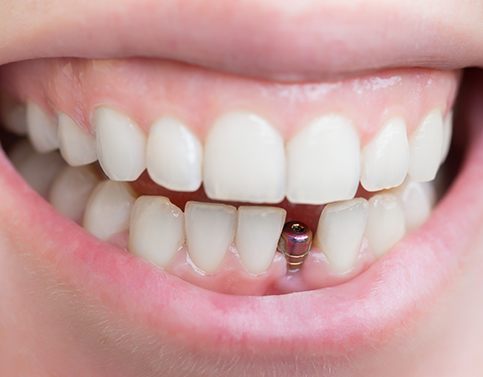 At Signature Smiles, we are pleased to provide dental implants as a viable alternative for patients suffering from tooth loss. Because most adults will qualify for this type of procedure, it is a great opportunity to embrace a better quality of life. However, there are instances in which an individual will need preliminary treatment before undergoing dental implant surgery. While this isn't always the case, these additional services can help to strengthen and ensure the success of the dental implants once they're put into place. Our dental implant dentist in Edison, Dr. Shah, will make sure that no matter the outcome of your initial consultation, you will walk away with a healthy, beautiful smile in the end. Contact us today to schedule an appointment to find out if you are eligible for dental implants.
Who is a Good Candidate for Dental Implants?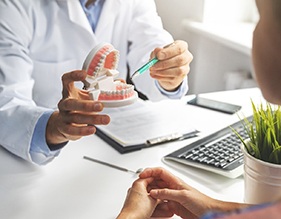 As we mentioned before, most adults with tooth loss are eligible for dental implants; however, it is necessary to undergo an initial consultation with Dr. Shah. During this appointment, you can expect a full examination of your oral cavity and facial structure to determine:
The status of your oral health and if you have gum disease or severe decay that would result in periodontal therapy or tooth extraction.
The status of your overall health, as you will need to be cleared to undergo minor oral surgery and possess no medical conditions that might lead to dental implant failure (i.e., diabetes, autoimmune disorders).
The density of your jawbone, as there must be enough to support your implants and restoration. Otherwise, you will need bone grafting before receiving dental implants.
Do not be dismayed by the idea that your smile or health may not be "good enough" for dental implants. Only Dr. Shah can determine your eligibility and will go above and beyond to provide additional treatments to get your oral cavity ready for permanent prosthetics.
Dental implants in Edison are perfect for any number of cases. Whether you need to replace a single tooth or all the teeth in your arch, we can customize your treatment to address your exact concerns.
Missing 1 Tooth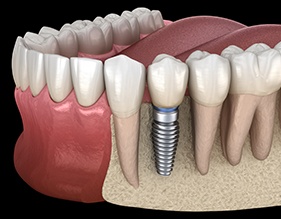 If you want to keep from being one of the 120 million Americans living with a single missing tooth, it's best to opt for dental implants. While it may not seem like a big deal, a single missing tooth can lead to more impactful bone and tooth loss as well as difficulty eating and speaking. To replace a single tooth, a titanium post is placed into the jaw and given several months to heal and integrate. After this process is complete, a metal abutment is placed onto the implant, so the permanent ceramic crown has a reliable foundation. We utilize tooth-colored materials to ensure the best-looking tooth replacement possible.
Missing Multiple Teeth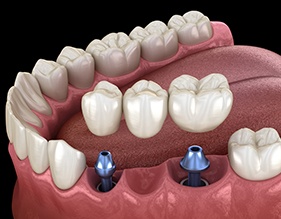 When using dental implants to support a dental bridge, two implants are used to replace two to three missing teeth at a time. Since the implants do all of the heavy lifting, they can hold your restoration entirely. This means no existing enamel has to be removed so they can act as anchors for your restoration. Another beneficial aspect of choosing dental implants for multiple missing teeth is that we can create an implant partial if you have gaps along your arch.
Missing All Teeth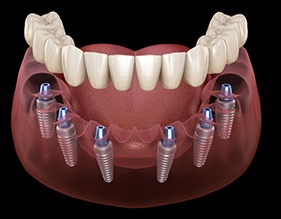 When replacing an entire arch of teeth at a time, a series of implants are placed throughout the jaw and given time to heal. Typically, we will use anywhere from 4-8 dental implants and secure them to your jawbone before adding the metal abutments and customized implant denture. Whether you choose a fixed or removable prosthetic is up to you, but you can trust that Dr. Shah will provide a beautiful restoration that offers greater functionality and longevity. Not to mention, your bone will continue to be stimulated because of your implants and their ability to mimic the natural tooth root.
If you are considered a candidate for All-on-4 treatment, we can perform the surgical portion of your treatment the same day that your restorations are placed, meaning you can walk out with a new smile even sooner! Using only four strategically placed dental implants, this is most commonly recommended for individuals with less jawbone density and who have been missing teeth for quite some time.
How Dental Implants Work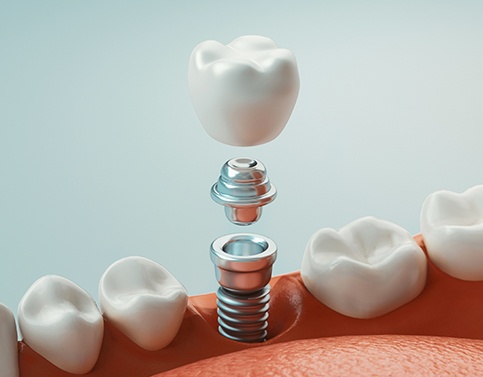 Because of our in-house expertise from Dr. Shah and other colleagues, he's able to perform the entire implant process in one location. There's no need to visit multiple dental offices in the area or be forced to work with dentists you might not already be familiar with. The process is broken up into two main phases: placement of the implant and abutment as well as the placement of the restoration. Keep in mind that the length of your treatment will vary depending on the number of teeth you need to replace.
Understanding the Cost of Dental Implants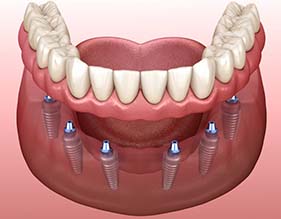 It is true that dental implants tend to cost more than more traditional tooth replacement options, but your treatment is likely to vary in cost depending on how complex your needs might be. The number of teeth you replace, the specific teeth you need to replace, and the need for potential restorative treatments (i.e. bone grafts) can all influence your total cost. With that said, dental implants are proven to last for decades when placed by a professional, meaning you can expect to pay less in the long-term compared to more short-term solutions like bridges and dentures.
Learn More About the Cost of Dental Implants
Dental Implant FAQs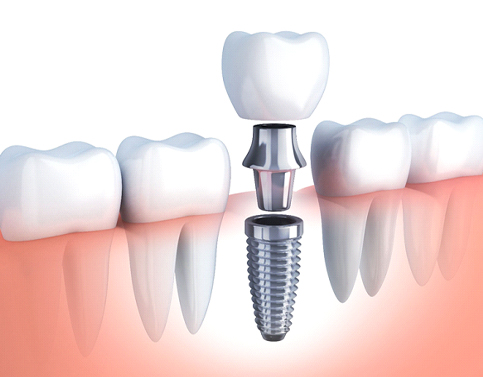 When it comes to replacing missing teeth, dental implants are often considered the gold standard due to their longevity, durability, and ability to replicate the entire structure of the missing tooth, not just the crown. Before going through with the treatment, however, it is likely that you have a few questions. Don't worry, we've taken the liberty of answering some of the frequently asked questions that we get about dental implants in Edison.
How Long Do Dental Implants Last?
Dental implants are designed to last upwards of thirty years. The good new is that you can prolong that lifespan even further by taking proper care of your implants. This includes brushing and flossing around your implant restoration every day as well as seeing Dr. Shah for a checkup and cleaning at least twice a year, or every six months.
Will I Have to See an Outside Specialist to Receive Dental Implants?
Not at all! Many general dentists lack the specialized knowledge and skills required to place dental implants, so they have to refer their patients to a periodontist or oral surgeon. However, Dr. Shah has completed enough advanced training throughout his career to be able to place and restore any number of dental implants in-house. You can rest easy knowing that the dentist you trust can give you your new teeth without having to refer you to a stranger.
Does It Hurt to Get Dental Implants?
While it might sound painful to have a titanium post placed directly into your jawbone, the truth is that you should only experience minimal discomfort during your procedure. This is because we use plenty of local anesthetic, and sedation if need be, to numb you up and soothe your worries before placing implants.
Because getting implants involves minor oral surgery, you can expect to deal with some degree of soreness and swelling for a few days after your procedure. However, this is nothing that can't be managed by taking your prescribed or OTC pain medication and/or applying a cold compress to your face in ten-minute intervals.
Am I Too Old for Dental Implants?
Not at all! In fact, we have had patients as old as their nineties come in to get implants because they are unsatisfied with their ill-fitting dentures. As long as you are in good general health and are willing to undergo a bone graft if necessary to strengthen your jawbone, there is no upper age limit on dental implants. However, we do not place implants on patients ages eighteen and younger, as their jawbones are still developing.