Dental Crowns – Edison, NJ
Restorative Solutions to Damaged and Missing Teeth
Whether you need to restore a tooth after it has suffered from tooth decay or physical trauma, dental crowns offer one of the most comprehensive solutions out there. Dr. Shah and his team take the time to listen to your dental concerns directly, create a detailed treatment plan, and ensure that your next crown fits perfectly and looks like a natural part of your smile. If you or someone you know has chipped, cracked, fractured or otherwise compromised teeth, don't hesitate to call the dental office directly to schedule an appointment for dental crowns in Edison, NJ!
Why Choose Signature Smiles at Edison for Dental Crowns?
Advanced Cone Beam Scanning Technology Available
Uses Tooth-Colored Materials, Completely Metal-Free
Kind and Experienced Dentist and Team
What are Dental Crowns?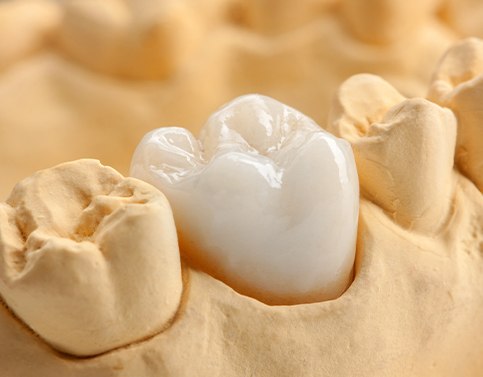 Dental crowns are small restorations designed to cover damaged teeth. Traditionally, they are made from metal alloys, usually referred to as amalgam mercury. While metal alloys like mercury, nickel, copper, silver and other options are strong, they often come with caveats that negatively affect the longevity of the crown and the underlying tooth. Instead, our dental office uses EMAX, Zirconia, and Bruxzir, which are forms of ceramic that work to both protect teeth and ensure a natural appearance.
Do I Need a Dental Crown?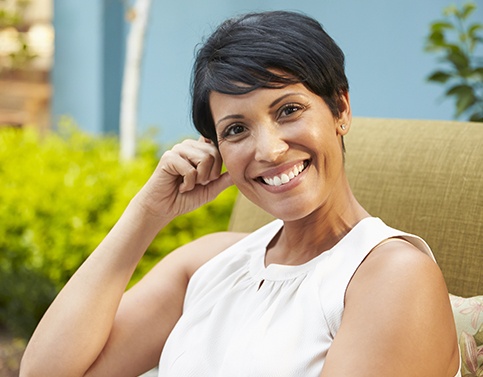 There are many instances where a crown may be needed to restore your oral health and protect your teeth from future damage. For example, if you have long-term tooth decay that has broken down enamel and left the inner areas exposed, we will likely need to place a crown. Furthermore, if you break a tooth, a crown will stop future fracture and prevent an oral infection from developing. Need to replace a tooth via a dental bridge? Crowns are used to build that bridge and fill the gap in your smile. We also customize crowns to fit over dental implants and create dentures.
How Does Treatment Work?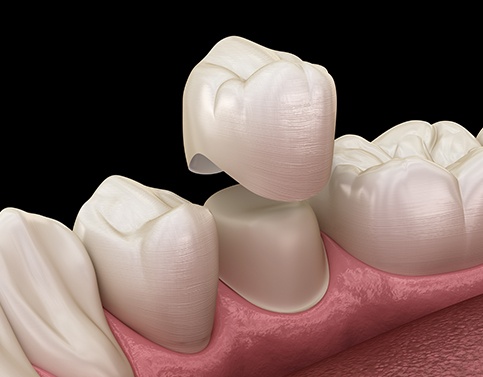 After performing a detailed examination of your mouth and removing any potential decay that's present, we'll ask you to bite down onto impression material in order to capture a detailed mold of your current tooth. This impression will be used to fabricate your future permanent crown. Until then, we'll provide you with a temporary crown so the tooth is protected. After about two weeks, you'll come back to our dental office to have the temporary crown replaced with a permanent version.
How Do I Care for My Dental Crown?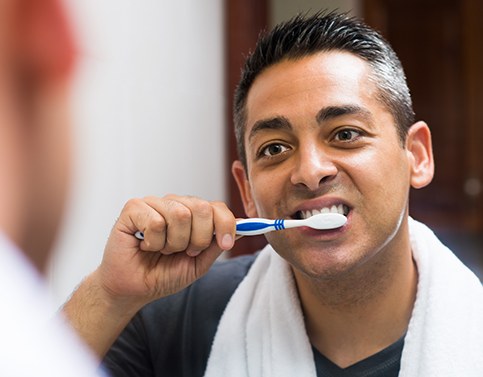 One of the perks of having a dental crown is knowing that it cannot develop decay because it is made from inorganic material. However, the natural tooth underneath it still can, which is why it's important to pay close attention to that area during routine brushing and flossing. Outside of consistent oral hygiene and regular checkups and cleanings at our dental office, there is no special care necessary for your new dental crown. Your crown should last between 10 and 15 years with regular maintenance.
Dental Crowns FAQs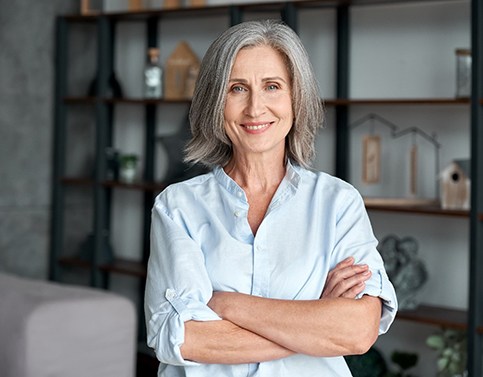 Interested in getting a dental crown from your restorative dentist in Edison? From improving your appearance to protecting your tooth and offering durability, there's a lot to like about adding a crown to your smile. At Signature Smiles, we'll go over all the details of this choice during your consultation so you can feel confident in your decision. Before you even sit down with Dr. Shah, keep reading to check out some frequently asked questions from our patients about dental crowns.
How Long Do Dental Crowns Last?
Zirconia crowns are particularly durable and could potentially last a lifetime with proper care. We offer BruxZir crowns which are fabricated out of solid zirconia – the strongest ceramic dental material. BruxZir crowns do not have a porcelain coating like other ceramic crowns, so they are not prone to chipping and can endure extra force. The lifespan of an E-Max crown can be up to 15 years. An E-Max crown consists of lithium disilicate glass, making it an all-ceramic system. Because E-Max crowns are partially translucent, just like human teeth, they give teeth an incredibly realistic look.
The longevity of your dental crowns in Edison mainly depends on factors such as your diet, dental hygiene, and whether you have any bad oral habits like smoking, nail-biting, teeth grinding, or eating ice. Crowns on front teeth may last slightly longer than crowns on molars, as they're not subjected to as much wear and tear from chewing.
Do Dental Crowns Get Cavities?
While it's technically impossible for a crown to develop a cavity, the tooth underneath it still could. A crowned tooth has a similar risk of decay compared to an uncrowned one. Poor oral hygiene makes it possible for bacteria and plaque to form where the tooth meets the crown; if they spread underneath the crown, it could mean major trouble for the tooth. Cavity prevention for crowned teeth is the same method as uncrowned – daily brushing and flossing with regular checkups and cleanings.
Does It Hurt to Get a Dental Crown?
Your dentist numbs the tooth they need to work on when you get a crown. That usually means a topical anesthetic, but if you have severe anxiety, they may use dental sedation. Of course, they'll check to see what you prefer. After your tooth is prepped for a crown, it may be sensitive for a few days, particularly if you also had a root canal. Since a crown protects a vulnerable tooth from damage, in the long run, it will likely prevent pain instead of causing any!
What Happens If You Wait Too Long to Get a Dental Crown?
Waiting too long to get dental crowns in Wauwatosa can have some detrimental consequences on your oral health and your wallet. For example, if the root of the problem is decay, the infection can continue to delve deeper into the tooth, increasing your risk of needing a root canal or an extraction. Therefore, it's always best to schedule the procedure sooner rather than later.