Cosmetic Dentistry – Edison, NJ
Invigorate Your Smile With a Detailed Makeover
Our highest priority at Signature Smiles at Edison is making sure that your oral health is in positive condition. However, we also understand that just because you have good oral health doesn't mean you should have to settle for a smile you feel uncomfortable showing to others. Dr. Shah offers many cosmetic treatments entirely in-house, so you can build a smile makeover treatment that addresses all of your concerns under one roof. To get started, call our dental office today to discuss options for cosmetic dentistry in Edison, NJ!
Why Choose Signature Smiles at Edison for Cosmetic Dentistry?
Veneers and Lumineers Available
Metal-Free Restorations for Best Esthetics
Virtual Smile Design Technology
Veneers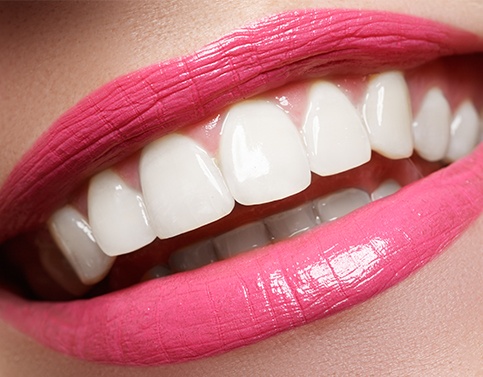 When you have chips, cracks, permanent discolorations, or gaps in your smile, you might hide it more than you'd prefer to. Porcelain veneers not only utilize natural-looking ceramics to bring teeth back to their original luster, but you can address multiple cosmetic issues all with a single treatment. After we remove a very small amount of enamel, we can bond the veneers directly to your teeth so they sit flush and blend in seamlessly with the rest of your teeth!
Learn More About Porcelain Veneers
Lumineers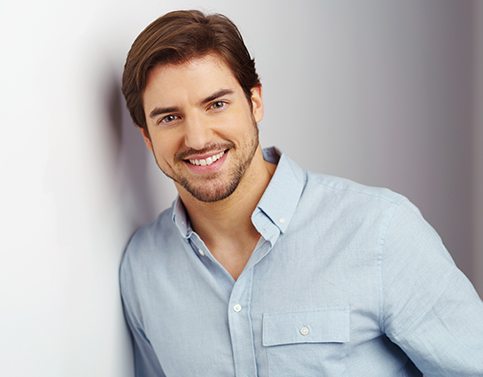 If you'd prefer not to remove any enamel or as little enamel as possible, you'll find Lumineers to be a more appropriate treatment option worth considering. These veneers are much thinner, which means they can still effectively cover multiple imperfections at a time, but do not require removing enamel in the process to do so. Furthermore, if you feel the need to go back to how your smile looked previously, removing them is simple and straightforward.
Metal-Free Dental Crowns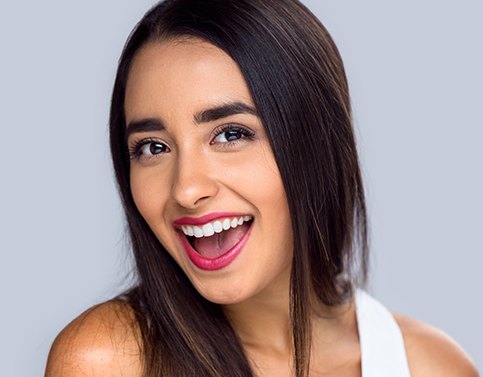 It doesn't make sense to use metal materials when you're trying to make your smile look as natural as possible. To accomplish the best esthetics for your teeth, we make sure to provide tooth-colored crowns along the way. Our dental office uses Zirconia, EMAX and Bruxzir for all dental crowns, ensuring no one but you and our dental office knows about your cosmetic dentistry. We'll custom-shade each restoration so the only aspect about your smile that others notice is their beauty.
KOR® Teeth Whitening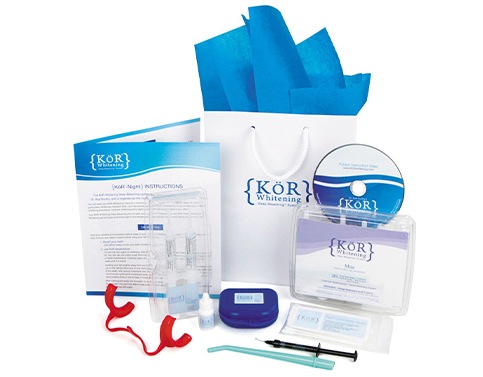 While there are many teeth whitening treatments available in dentistry today, Signature Smiles at Edison uses KOR whitening products to make teeth several shades whiter. Without using heating lamps, KOR offers a level of whitening that is both truly effective and convenient. Whether you'd prefer to whiten teeth in our dental office or in the comfort of your own home, our teeth whitening services are sure to take many years off your smile, remove a variety of stains, and boost your confidence.
Virtual Smile Design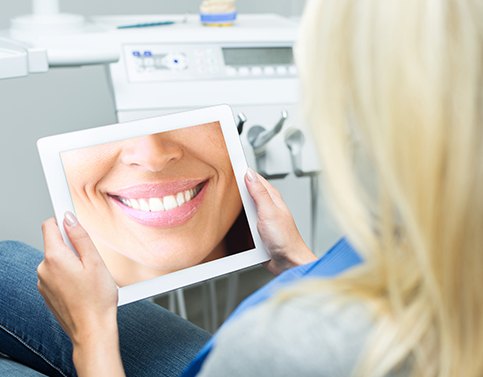 Are you wondering what your smile could look like after a smile makeover? Wish you could see how your smile would look after receiving a specific treatment? Our in-house virtual smile design software can take a current photo of your smile and modify it to highlight exactly what you could look like following any service at our dental office! If you'd like, you can also take the photo home to think over your options before deciding on your final treatment plan.
Understanding the Cost of Cosmetic Dentistry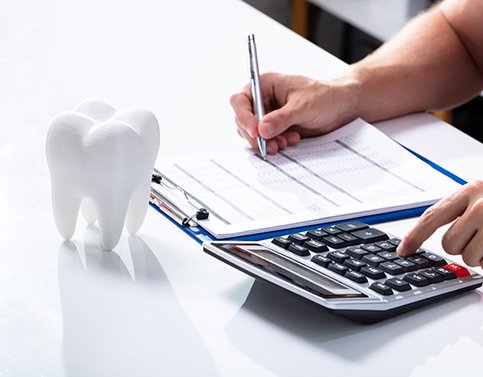 Some people are reluctant to commit to cosmetic dentistry because of cost concerns. While it is not covered by dental insurance in most cases, as your cosmetic dentist in Edison, we will gladly help you figure out your best course of action financially and which treatments make the most sense accordingly. Cosmetic services have varying price points, so it's important to find the solution that best suits your grin as well as your wallet.
Which Cosmetic Dental Service Is Right for Me?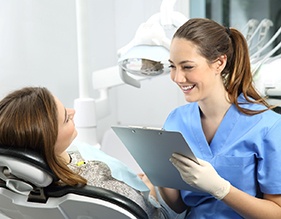 Prospective cosmetic dentistry patients are often trying to either whiten their teeth, straighten them, change their size/shape, or achieve some combination of the three. Once our cosmetic dentist examines your teeth, they can help you explore solutions that make sense for your goals, such as:
Teeth Whitening – A midrange option regarding the cost that takes two weeks to do at home or one office visit. In-office treatment is more expensive but also offers optimal results. Ideal to brighten your smile but cannot alter your tooth shape or position.
Veneers – A more costly option but capable of transforming your smile in multiple ways at once. They can last for more than a decade with proper care. They save time in the long run and are more resistant to stains than your natural teeth.
Metal-Free Dental Crowns – When you need restorative care to rebuild a damaged or decayed tooth, our team will help you maintain your naturally confident appearance with materials that are 100 percent biocompatible, highly durable, and an exceptionally close match for tooth enamel. This is a lower-cost option.
Lumineers – If you'd prefer not to remove any enamel or as little enamel as possible, you'll find Lumineers to be a more appropriate treatment option worth considering instead of veneers. They are much thinner which means they can still effectively cover multiple imperfections at a time, but do not require removing enamel in the process to do so. So, Lumineers are reversible and the less expensive option of the two.
Why Is Cosmetic Dentistry Worth the Investment?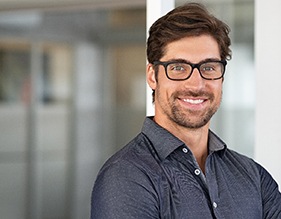 The cost of cosmetic dentistry in Edison can vary greatly depending on the treatment you select, but your investment will continue to pay dividends for many years to come. After all, it's tough to put a price on increased confidence that can lead to an improved quality of life. You can look younger with treatments like teeth whitening or veneers that brighten your smile. And don't discount improvements to your oral health when you select metal-free dental crowns. Imagine upgrading your relationships, social life, professional achievements, and health across the board!
How to Make Cosmetic Dentistry Affordable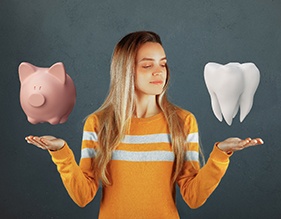 Purely aesthetic dental care is generally not covered by dental insurance, meaning you'll have to find an alternative way to pay for your treatment. Fortunately, we can provide 12-month interest-free CareCredit financing to patients who wish to pursue elective cosmetic dentistry procedures. We also offer an in-house dental plan that provides 40 percent off cosmetic procedures among other benefits!
Are you ready to make your dream smile a reality? Contact our office to learn more about these treatments and related pricing information during a cosmetic consultation. It's our mission to help you accomplish your goals while being mindful of your budget along the way.
Cosmetic Dentistry FAQs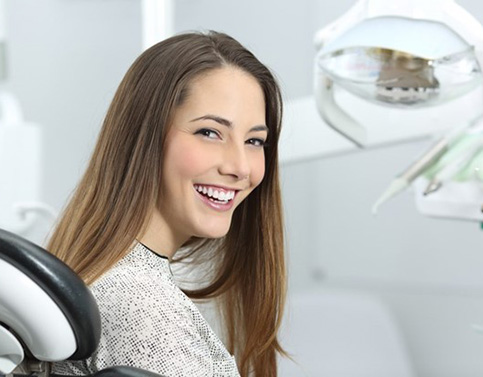 It's natural to have questions about any sort of dental treatment, and our team here at Signature Smiles is happy to address any concerns you might have about cosmetic dentistry in Edison. Below we've gathered a few of the most frequently asked questions that we receive about cosmetic dental work so that you can feel comfortable and confident about working towards your dream smile. Of course, if you have any other questions about a particular treatment or would like to schedule a visit, feel free to give us a call today!
Does Cosmetic Dentistry Hurt?
You should be happy to hear that the majority of cosmetic treatments are actually quite comfortable and relatively pain-free, and most of the time an anesthetic isn't even necessary! Options like teeth whitening are so quick and non-invasive that you won't have to worry about pain at all. And while treatments like veneers and Lumineers can sometimes cause some residual soreness, it's very minor and temporary.
How Do I Know If I Need Cosmetic Dentistry?
As the name suggests, cosmetic dentistry is intended to improve the appearance of one's smile. However, it still has certain limitations and capabilities, meaning that the only way to accurately assess what it can do for your smile is for you to come visit us for a consultation. We can look at your smile and discuss your goals with you before coming up with an appropriate gameplan. That said, aesthetic issues like discoloration, chipped and cracked teeth, gaps between teeth, and more can all be addressed with a variety of innovative, natural-looking solutions.
How Long Does Cosmetic Dentistry Last?
Unfortunately, cosmetic dentistry isn't designed to last forever, and there are usually two main factors that determine how long your results will last: the procedure that was performed and your commitment to oral hygiene moving forward. For example, teeth whitening, whether it's performed in our office or with a take-home kit, often yields results that last anywhere from a few months to a few years. However, veneers can last for up to 15 years before needing to be replaced. Regardless of the treatment you receive, practicing excellent oral care will keep your results intact for the foreseeable future.
Is Cosmetic Dentistry Expensive?
Many patients are under the assumption that you need to be made of money to afford cosmetic dentistry; however, this isn't the case at all! While it's true that most cosmetic procedures are not covered by dental insurance, there are still ways to lessen the financial burden. We're proud to offer financing through CareCredit as well as an in-house membership plan, both of which can alleviate the cost of treatment and ensure that you're able to affordably reach your dream smile. It's also worth mentioning that sometimes cosmetic dental work that also offers long-term oral health benefits might be partially covered by your insurance, but you'll need to check with your provider beforehand.