KoR Teeth Whitening – Edison, NJ
The Easiest Way to Get a Stunning Smile
When you see your smile in the mirror or in photos, do you find yourself wishing that your teeth were whiter? If so, you're certainly not alone! In fact, some studies even estimate that up to 80% of American adults wish their pearly whites were brighter. Thankfully, at Signature Smiles at Edison, we offer the easiest way to get a stunning smile with KoR teeth whitening! As one of our most popular cosmetic services, we've helped countless patients say goodbye to yellowing teeth and achieve the beautiful smile they deserve. And with both in-office whitening treatments and take-home whitening kits, you can take years of stains off your teeth in whatever way is most convenient for you. Read on to learn more about KOR teeth whitening and give us a call today to schedule your consultation!
Why Choose Signature Smiles at Edison For KoR Teeth Whitening?
#1 Preview Your Brighter Smile with Our Virtual Smile Design
#2 In-Office Whitening Treatments & Take-Home Whitening Kits Available
#3 High-Quality Ingredients for Safe, Reliable, & Dazzling Results
What Causes Tooth Discoloration?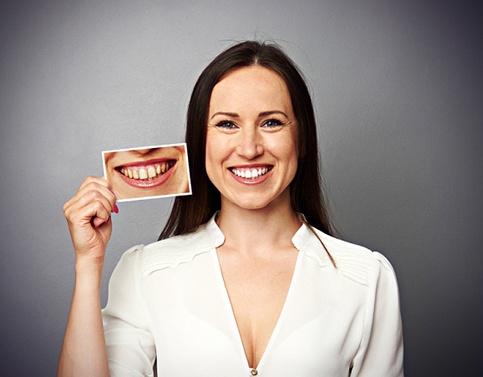 No one wants a yellow, brown, or gray tint to their pearly whites, but tooth discoloration is an incredibly widespread issue. In general, there are two types of dental stains: extrinsic and intrinsic.
Extrinsic stains are surface stains. They develop in the upper layers of the enamel, usually as a result of enamel erosion, an acidic diet, staining foods and drinks, or tobacco use. Since these stains are on the surface of the teeth, they can sometimes be removed by brushing, whitening toothpaste, or a professional cleaning. However, if they are particularly stubborn, getting rid of them may require teeth whitening.
Intrinsic stains are more troublesome to deal with, since these occur deep down within the tooth. These are not as common as extrinsic stains, and they are typically caused by things like injury to the inside of the tooth, overuse of certain medications, overexposure to fluoride in childhood, and thinning enamel. Store-bought whiteners can rarely work on intrinsic stains, but we can almost always erase them with a professional teeth whitening treatment.
Your KoR Teeth Whitening Options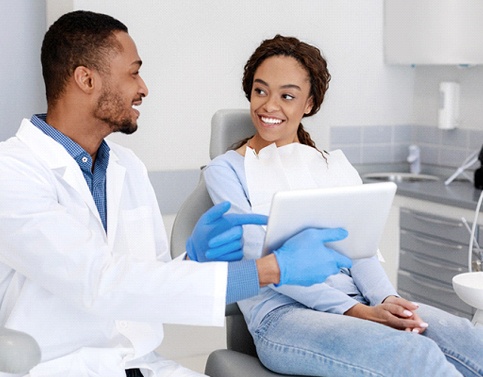 At Signature Smiles at Edison, we value your time. That's why we're happy to offer two KoR teeth whitening systems, so you can brighten your smile in a way that best works for you. Both options use professional-grade KoR whitening ingredients to give you results you can count on. Depending on your unique goals, we may recommend:
In-Office Whitening Treatment
Are you interested in getting significantly whiter teeth in just one quick and easy appointment? Then there's no better option than an in-office KoR whitening treatment! We'll apply the whitening gel directly onto your teeth and let it sit there for a while to seep into your enamel. The powerful bleaching ingredients will break up and lift deep-seated stains to brighten your smile by up to 10 shades. In as little as an hour or two, you'll walk out of our office with a dazzling smile!
Take-Home Whitening Kit
If you'd prefer to brighten your pearly whites gradually and when it's most convenient for you, a take-home whitening kit is an excellent choice. We'll take impressions of your teeth to create custom-made whitening trays that are designed specifically for your smile. You'll take these home along with personalized doses of KoR bleaching gel, where you can wear them for a set amount of time whenever you like. Within just a few weeks, you'll achieve the brilliant results you're looking for!
Benefits of Professional Teeth Whitening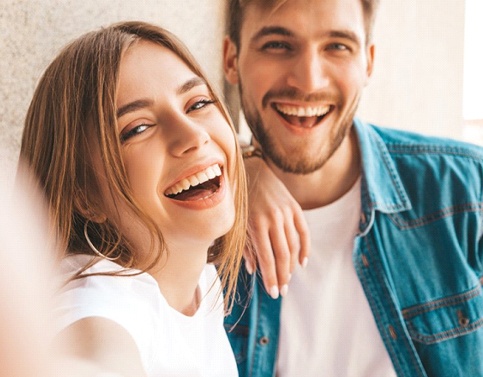 While there are plenty of over-the-counter teeth whitening products you could try, none compare to the reliable and long-lasting results professional teeth whitening can give you. When you choose a KoR in-office treatment or take-home whitening kit, you can expect:
Predictably fantastic results you can rely on.
A comfortable whitening experience with ingredients that are designed to minimize tooth sensitivity.
Long-lasting results that could easily last you a year with the proper care.
Peace-of-mind knowing that your smile is being cared for by a professional.