All-On-4 Dental Implants – Edison, NJ
Get a New Smile the Same Day
If you have severe tooth loss, it can make performing even the most basic tasks feel insurmountable. Whether you're missing teeth on both sides of your mouth, in both your upper and lower arches, or you're missing all your teeth altogether, Dr. Shah can create a fully personalized treatment plan that meets your exact tooth replacement needs. All-on-4 dental implants can transform your smile quickly and effectively, so don't wait to contact Signature Smiles at Edison to schedule your first consultation to discuss All-on-4 dental implants in Edison, NJ!
Why Choose Signature Smiles at Edison for All-On-4 Dental Implants?
Experienced Dentist Performs Entire Treatment In-House
Advanced Technology Enhances Overall Planning Process
Relaxing Sedation Dentistry Available
How Do All-On-4 Dental Implants Work?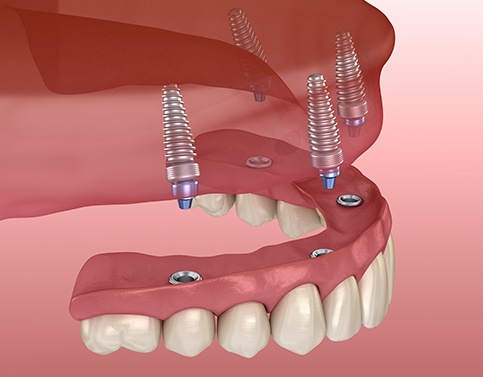 The All-on-4 treatment utilizes dental implants to not only replace teeth, but hold an entire arch of teeth using only a handful of titanium posts. After confirming your eligibility for dental implants, a series of implants (often four, but in some cases six) are placed in strategic locations throughout the jaw. By placing the implants in areas that maximize your bone tissue, we can immediately attach a natural-looking restoration to the implants. This means your restorative phase of treatment occurs the same day as your surgery. Afterwards, Dr. Shah will discuss aftercare tips to keep in mind to ensure your tooth replacement lasts for decades.
Am I a Candidate for All-On-4 Dental Implants?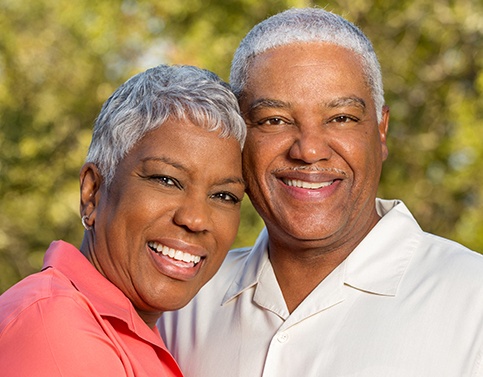 The good news is more and more patients are eligible for dental implants than ever before, even if you have been missing teeth for a very long time. During your exam, we'll confirm the current status of your oral health, making sure that no tooth decay or gum disease is present. We will also examine your current bone volume in order to confirm that your jaw can effectively hold dental implants. If you have good oral health, healthy gum tissue, sufficient bone volume, and a considerable amount of missing teeth, chances are likely that you're eligible for All-on-4 dental implant treatment.
Benefits of All-On-4 Dental Implants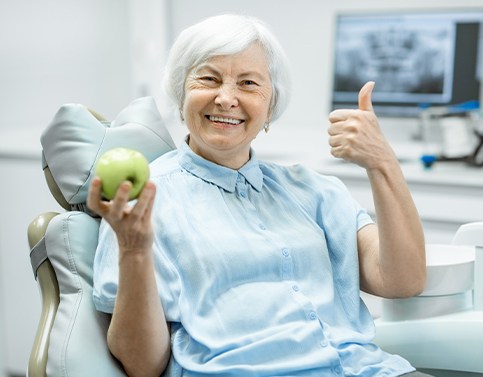 There are many benefits worth considering when it comes to replacing teeth through All-on-4. For one, you can replace several teeth at a time, ensuring the most comprehensive mouth reconstruction possible. Since your replacement teeth are secured by titanium posts that regularly stimulate your bone tissue, you can expect long-term reliability, functionality and restorative benefits that you won't find with traditional solutions like dentures or bridges. For example, chewing food feels incredibly natural and your facial appearance does not change because bone is no longer deteriorating. Furthermore, if you want the most natural-looking smile possible, dental implants are sure to deliver.
All-On-4 Dental Implants vs. Traditional Dental Implants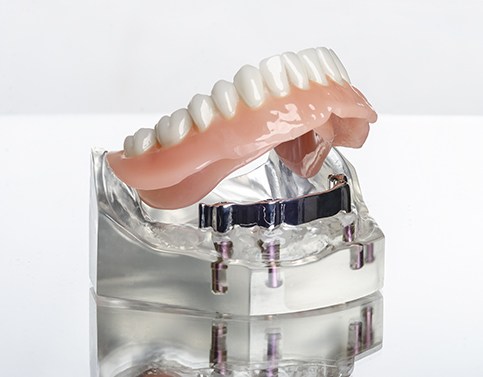 When you replace teeth with traditional dental implants, the implant requires time to integrate with the jaw before it can be covered with a permanent restoration. This is the case when you replace teeth either through a single tooth or bridge utilizing two implants. This healing process can take four to six months to complete, leaving you without a permanent restoration to show off. Furthermore, it can actually be more cost-effective to replace teeth in this way because you're not replacing them individually. We'll make sure to discuss more of the differences with you in more detail so you can make an informed decision on your tooth replacement.