Dentures – Edison, NJ
Affordable, Customized, and Detailed Tooth Replacement
When you're missing teeth, chewing certain foods becomes a daily hassle. As a result, you're forced to micromanage your diet, both at home and with friends. On top of that, you might not feel as inclined about showing off your smile when multiple and even all teeth are missing. Thankfully, Signature Smiles at Edison offers personalized dentures for those with all levels of tooth loss! Dr. Shah is always prepared to work with you when you're ready for a denture, whether it's your first one or you're replacing an old version! Call our dental office today and we'll get you scheduled for a one-on-one consultation to discuss options for dentrues in Edison, NJ.
Why Choose Signature Smiles at Edison for Dentures?
Young, Caring and Vibrant Team Members
Improved Planning via Advanced CBCT Scanning Technology
Bilingual Team Ensures More Comfortable Communication
Is a Denture Right for Me?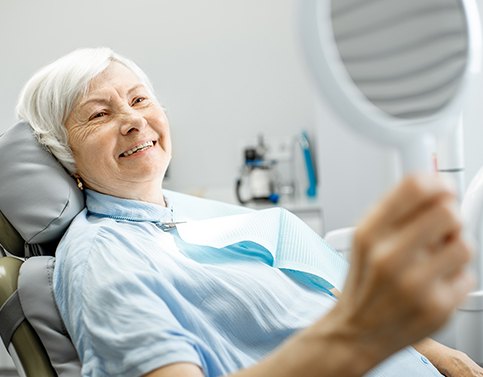 Generally, it doesn't take much to be a good dentures candidate. Most patients can qualify for treatment if they suffer from tooth loss. Even so, you'll want to consult with Dr. Shah to confirm things. He and his team will determine if dentures suit you. If they don't, though, don't worry; you can qualify later with preliminary dental work. Alternatives to dentures are also possible. To get further details, just keep reading or call our office today.
Effects of Missing Teeth
Before considering denture candidacy, you should review the causes and effects of tooth loss. Doing so helps you see how treatment can help.
Ultimately, many factors can contribute to missing teeth. One potential cause is decay, which can erode a tooth until it falls out or needs extraction. Another is gum disease – a condition that wears down the ligaments that keep teeth in place. Patients can also lose a tooth if it's damaged by an accident or injury.
Regardless of the causes, however, tooth loss always has severe effects. First, various everyday tasks – especially eating, speaking, and smiling – get harder. Besides that change, unseemly smile gaps also emerge. These spaces, in turn, also cause adjacent teeth to tilt and fall.
What Qualifies You for Dentures?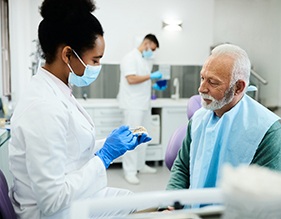 True enough, most with tooth loss can get dentures. That being said, there are other qualifying factors worth assessing.
For instance, take oral health. A denture will only work if you have healthy gum and jaw tissue. (Lacking these deprives the appliance of support.) Meanwhile, your still-existing teeth can also make dentures worthwhile. After all, the latter can help if the former are decayed or sensitive.
Something else to note is how many teeth you've lost. Based on the exact number, you'll need a partial or full denture. The partial type only replaces a few teeth at most. As for the full kind, it restores all the pearly whites along the upper or lower arch.
Last but not least, consider your budget as well. Dentures happen to be cheaper than other oral restorations. Consequently, they're ideal for those who need low-cost care.
Alternative Tooth-Replacement Options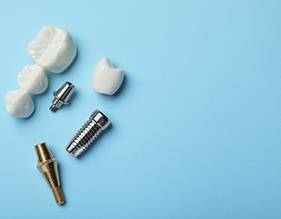 If Dr. Shaw decides you aren't a good dentures candidate, it's okay. We at Signature Smiles offer several other tooth-replacement options. The most common of these treatments are:
Dental Bridges – A dental bridge is a fixed restoration. Made of crowns fused to a pontic (i.e., false tooth), it uses surrounding teeth for support. As such, the appliance only replaces a few pearly whites at a time.
Dental Implants – Dental implants are titanium posts that replace tooth roots. Given this fact, dentists place them directly in the patient's jaw sockets. The posts then gradually fuse with the jawbone. In light of these traits, though, implants depend on healthy bone tissue to work. They can also get expensive.
Learn More About Dental Bridges
Types of Dentures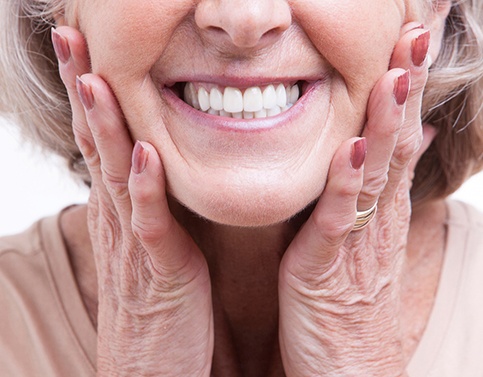 Missing teeth don't have to affect your life forever. Thanks to dentures, you can enjoy a complete and fully functioning smile once again! A tried-and-true solution, this method of tooth replacement is a great way to restore a complete bite. Plus, the prosthetics are designed to appear more natural and feel more comfortable than ever before.
Partial Dentures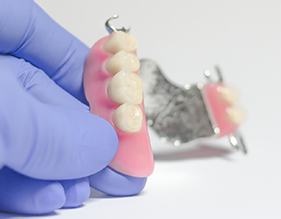 If you're only missing one or two teeth, you may want to consider partial dentures. As the name suggests, these are designed to only replace a few teeth. The prosthetic is attached with a clasp to your remaining natural teeth. A gum-colored base and custom-made set of prosthetic teeth are used to seamlessly complete your existing smile. In the end, you'll have a result that is both entirely functional and beautiful!
Full Dentures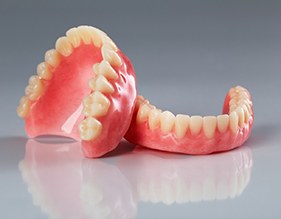 Do you need more than a few teeth replaced? Full dentures are likely the ideal choice for you! Like partials, they have a discreet, gum-colored base and prosthetic teeth that look very natural. The only difference is that this restorative solution is held in place with natural suction, denture adhesive, or a mixture of both.
Implant Dentures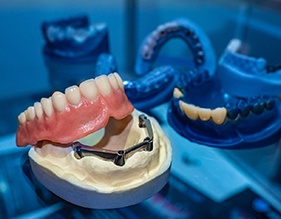 Some patients want a durable and more stable solution than traditional dentures. Well, that's where implant dentures come in! They combine the best qualities of dentures and state-of-the-art dental implants.
Instead of staying in place through clasps or natural suction, your prosthetic is attached to a titanium post that is surgically inserted into the jawbone. Over time, these implants will naturally fuse with the surrounding bone tissue via osseointegration. Their unique placement will allow you to enjoy maximum stability and avoid unwanted movement.
How Dentures are Made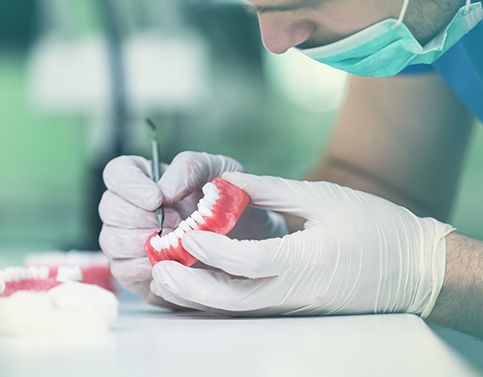 If you're getting dentures, you may want to learn how they're made. That's a fair concern – it only makes sense to know what went into your new teeth. Luckily enough, we at Signature Smiles can address that matter: below is a summary of denture parts and how labs make and combine them. By reading it, you'll see how our office creates top-quality dental prosthetics. You'd then have a deeper appreciation for smile restoration!
What are Dentures Made Of?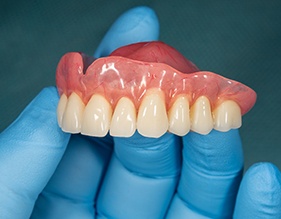 No matter the type, all dentures have two essential parts: the base and the artificial teeth. Each component is vital to the overall appliance. To learn why that's the case, consider their features as described:
Denture Base – A denture's base supports its artificial teeth. As such, it's pink-colored and sits on a patient's gums to blend with the surroundings. Labs can typically make one from various materials, including acrylic, nylon, porcelain, resin, or metal.
Artificial Teeth – Dentures' artificial teeth (per their name) are the prosthetic's tooth-replacing portions. They're typically made from resin or porcelain to ensure lifelike results. That said, porcelain is the more popular material because it looks and feels like natural teeth.
The Denture Creation Process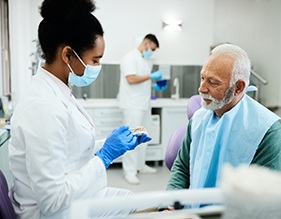 To be clear, every denture is custom-made for a patient's unique mouth. That means making each one requires a multi-step process. As for what the steps are, they include:
Step 1: The dentist performs an oral exam and takes an impression of your gums. Afterward, the impression is sent to an offsite lab fabricating the dentures.
Step 2: Following an initial crafting period, the dental lab will send wax dentures to the dentist/prosthodontist for a fitting. Assuming patient and dentist approval, the restorations are returned to the lab for completion.
Step 4: A technician will boil down the returned dentures to remove their wax portions. The appliance is then placed in a flask, into which plaster will later flow. The flask is then placed in hot water to melt the dentures.
Step 5: A lab worker makes holes in the artificial teeth, ensuring new material can attach. A liquid separator is also added to the plaster layer to prevent the acrylic from sticking. The same acrylic is then injected into the flask to replace the wax.
Step 6: The lab worker will remove the plaster to reveal the prosthetics. Later, they place the dentures in an ultrasonic bath to remove leftover plaster.
Step 7: After cutting away excess acrylic, the technical polishes the restorations
Step 8: The patient returns to the office for fitting and final adjustments.
Adjusting to Your New Dentures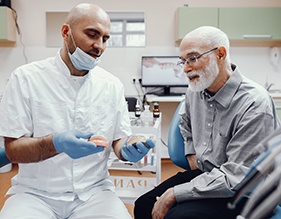 Once you start wearing dentures, you may feel some slight discomfort. This symptom is normal – it may even manifest as moderate soreness or a struggle to eat or speak. Still, the minor discomfort is unnatural. You should ease it as soon as possible to assess your treatment results.
Of course, you can speed up the adjustment as needed. Habits like eating soft foods, and avoiding cavities, are trivial enough. These practices would make eating easier and lower your potential discomfort.
Whatever your final choice, though, be careful. You may need to visit a dental practice if your aches persist. Should that happen, you might need replacement restorations.
Benefits of Having a Denture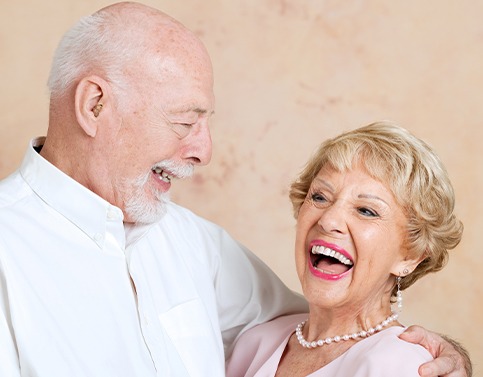 If you have existing teeth, a partial denture works to prevent them from shifting out of place over time. However, even if you do not have any remaining teeth, a full denture can give you the confidence to smile and eat many foods that you couldn't before. They can also improve your speech, boost your self-esteem and confidence, and offer additional support to your facial muscles. If you want the most affordable and quickest solution to extensive tooth loss, dentures make a great option.
How to Care for Your Denture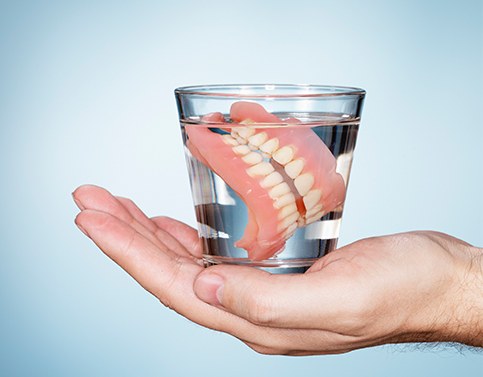 To make your denture last as long as possible, Dr. Shah will go over the most essential at-home care tips to keep in mind. This includes cleaning your denture using a dedicated cleanser and toothbrush as well as avoiding the use of harsh abrasives or chemicals. Additionally, you should always keep a wet towel in your sink while cleaning your denture to prevent it from cracking should you accidentally drop it in the sink.
Understanding the Cost of Dentures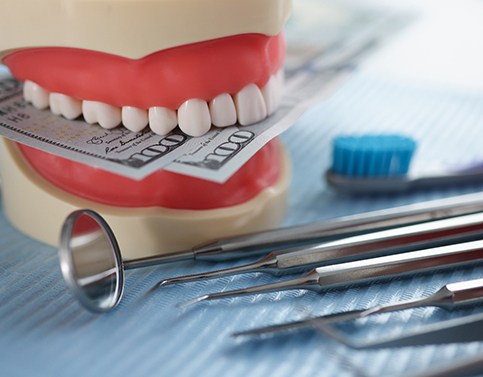 Missing teeth can affect multiple aspects of your life. Fortunately, tooth-replacement options like dentures in Edison can allow you to enjoy a strong and healthy bite once again. Before moving forward with the process, you probably want to know how much it will cost. Since every case is unique, it's impossible to provide an accurate price estimate until you come in for an exam. Following your appointment, you'll have a much better understanding of what you can expect to pay.
Factors that Affect the Cost of Dentures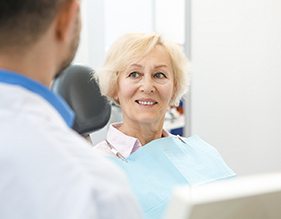 Several factors influence the overall cost of dentures in Edison. Some of those include:
Any preparatory work needed beforehand (i.e., tooth extractions, gum disease therapy, etc.)
Number of teeth you're missing
Materials your denture will be made of (i.e., porcelain or acrylic)
Patients on a budget may be tempted to get a cheaper denture, but it's important to remember that you get what you pay for. More affordable prosthetics tend to break easily and require a replacement much sooner than anticipated. When it comes to dentistry, it's always best to invest in high-quality work.
Are Implant Dentures More Expensive?
Yes, but it's because implant dentures require oral surgery and the placement of multiple dental implants. Because of their unique placement inside the jawbone, implant dentures are far more reliable for day-to-day use. They will stay firmly in place and will help stimulate the jawbone, providing you with increased biting strength and longevity. Another significant benefit is that implant dentures can last decades, while traditional ones will need to be replaced every five to seven years.
Does Dental Insurance Cover Dentures?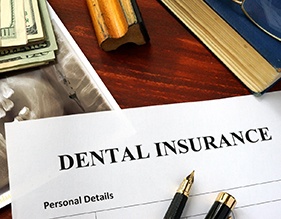 You'll be happy to know that most dental insurance plans offer coverage for dentures in Edison because they're considered a major procedure. Usually, you can expect around 50% of their cost to be covered. Of course, every policy is unique, which means the exact percentage can vary from person to person. Make sure you confirm the details of your coverage with your insurance provider before committing to anything. If needed, our team is more than happy to help with that process!
Other Options for Making Dentures Affordable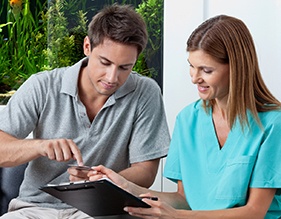 If you don't have dental insurance, you may think you're stuck paying the entire cost of dentures in Edison out-of-pocket. Well, you're in luck! At Signature Smile, we offer additional financing options to help make your treatment as affordable as possible, such as:
In-House Dental Plan: For a flat monthly rate, you can get the preventive care you need and enjoy sizeable discounts on other treatments we offer! You get the benefits of traditional dental insurance without the red tape.
Care Credit Financing: This option allows you to split up the total cost of your treatment into smaller monthly installments. Best of all, most payment plans come with little to no interest attached!
Denture FAQs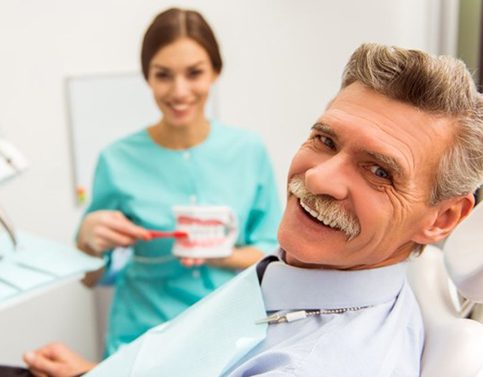 As an experienced denture dentist in Edison, NJ, Dr. Shah understands that extensive tooth loss is often emotionally harrowing. He and the rest of our team at Signature Smiles at Edison strive to provide our patients with all of the information they need to make the right decision regarding tooth replacement. That's why we have included the answers to a handful of denture-related questions that we get asked the most frequently. If you don't find the information you're looking for on this page, feel free to call us; we'll also answer any of your questions during your consultation.
Will It Hurt to Get Dentures?
When you first receive your dentures, it's perfectly normal to experience some irritation and soreness as your mouth gets used to the new appliance. For most patients, this adjustment process lasts for a few weeks, but it may take a few months for others. It might take even longer if you were wearing a denture before and have to grow accustomed to a new one.
After providing you with your denture, Dr. Shah will give you personalized guidance on adjusting to it, including how long you can expect discomfort to last. If it persists for longer than that, be sure to call us. The denture may not fit correctly, or there might be an underlying oral health issue that must be addressed.
What Qualifies You for Dentures?
The requirements for getting each of the three types of dentures – partial dentures, full dentures, and implant dentures – are different. Partials are ideal for patients who still have most of their teeth left; maybe they lost some teeth due to malnutrition, a health issue, or an unfortunate accident. Full dentures are offered when a patient is already missing all of their teeth or none of their teeth are worth salvaging. A full or partial denture can be secured onto dental implants if the patient has adequate jawbone density or is willing to undergo a bone graft.
What Is the Average Age for Dentures?
Despite the stereotype, tooth loss is not an inevitable part of the aging process. That being said, it's far more common in older patients. According to the National Center for Health Statistics, about 66% of adults between the ages of 40 and 64 have lost at least one tooth, compared to only 33% of adults aged 20 to 39. Additionally, the American Dental Association found that almost 57% of people aged 65 to 74 currently wear some type of denture.
While the need for tooth replacement generally increases with age, people of all ages might potentially be candidates for dentures in Edison.
How Long Will You Have to Wait to Get Dentures After Your Teeth Are Pulled?
On average, you'll have to wait between six and eight weeks to get dentures after getting your teeth pulled. This recovery period gives the gums time to heal as well as time for us to make sure that the dentures fit properly. Of course, the exact timeline varies based on the kind of denture you're receiving. If you're getting implant dentures, you'll likely have to wait four to six months for the implants to merge with your jawbone via osseointegration.