July 27, 2021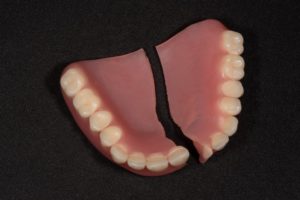 When you've had your denture for long enough, you typically stop worrying about it breaking. After all, you've learned how to take good care of it by now. That's why when you suddenly notice a chip or crack in your denture one day, you don't know what to do. Does a broken denture count as a dental emergency? Your dentist would say yes! Keep reading to learn why you should absolutely call your dentist for broken dentures in Edison.
Why Do Dentures Break?
It's all too easy for dentures to break if they're dropped onto the floor, but in actuality, the most common reason for a broken denture is regular wear and tear. After years of wearing the denture, using it to chew, and cleaning it, it undergoes a great deal of stress. External factors, such as frequent exposure to hot and cold foods, can also weaken dentures over time.
Since you use your denture so much in everyday life, you're going to want to get it repaired or replaced as soon as possible in the event that it breaks.
What to Do If You Break a Denture
First things first, contact the dentist who provided you with the denture. Give their team as many details of your situation over the phone. They should schedule an appointment for you right away, during which the dentist can examine both the denture and your mouth.
Whatever you do, do NOT attempt to fix the denture yourself. Most dentists advise against using a store-bought denture repair kit. Not only do they not work very well, but they can also permanently damage your denture if you're not careful. It's best to leave denture repair to a trusted dental professional.
How Your Dentist Can Handle a Broken Denture
The extent of the damage will affect whether your dentist can fully repair the denture. It's easy enough to fix a denture with a missing tooth, for example. In fact, it can usually be done in just one or two appointments. For more severe damage, such as a denture that has broken in half entirely, your prosthetic will have to be replaced.
A broken denture might not seem like a huge deal, but it can hinder your ability to talk, eat, and go about your daily life. That's why you should definitely contact an emergency dentist for a broken denture as soon as possible!
About the Author
Dr. Hiren Shah is a trusted dentist with over a decade of experience in the field. He offers high-quality full, partial, and implant dentures in Edison, NJ, and he is able to treat same-day dental emergencies in most cases, including broken dentures. If you're dealing with a broken denture and need help, don't hesitate to contact Dr. Shah's practice, Signature Smiles at Edison, by calling (908)-834-8448.
Comments Off

on Do You Need to See an Emergency Dentist for a Broken Denture?
No Comments
No comments yet.
RSS feed for comments on this post.
Sorry, the comment form is closed at this time.